The Golden Rockets are dawning their community jersey for the month of November and this year's sweater will raise awareness for indigenous communities.
Team officials said the decision to have an Indigenous jersey came after one of their players faced harassment on the ice last season because of his First Nations background.
The team wanted to demonstrate to their players that the organization stands beside them and honours their heritage.
"By wearing this crest in the month of November, we want to continue the dialogue on anti-racism and anti-bullying past a single day," the organization said in a statement.
"Working collaboratively with Metis artist, Aguenus (Angela Hall), who is also the parent of one of our players, a crest was created with a point of reflection for each symbol; The indigenous star motif in the centre, for indigenous people are star people; the Metis infinity symbol; inukshuks shaped to reflect a rocket; and eagle feathers demonstrating the honour it is to serve your community."
One of the players asked management if he could have his Indigenous name on the back of his jersey and three other players followed suit as seen below.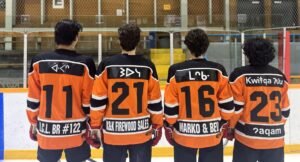 The Rockets wear a special community jersey every season in November.
Once the month is over, the jerseys are auctioned off to raise money for the Rockets Community Fund.
The fund is used for any Golden resident who may need financial assistance with medical travel costs.