Army Reserve soldiers from around the region travelled to Train to take part in a four-day hands-on training exercise. Troops in the local 44 Engineer Squadron took part and included reservists from Fernie, Cranbrook, and Invermere, all the way to Grand Forks and Castlegar.
The event began on Saturday, October 19, 2019, and continued until October 24.
Throughout the exercises, members practiced several important military engineering skills. Canadian Army Reservists from the lower mainland based parent unit, 39 Combat Engineer Regiment joined the training event.
Training included hands-on experience with a multitude of skills, including rock and concrete drilling using hydraulic and gas-powered drills, chainsaw training, heavy equipment operation, non-explosive demolition with expanding grout, and explosive demolition in rock, concrete, and timber.
The exercise concluded with a navigation course, through the forest. They also participated in day and night live-fire weapons training at Casino Range south of Trail.
The Army says that many new soldiers took part, some joining as early as the spring of 2019 and went through basic training through summer.
Major Nils French, Squadron Commander, said the skills gained would be useful for disaster response in the region.
"The ability to work effectively with rock and timber is important in a mountainous, heavily forested area like the Kootenays."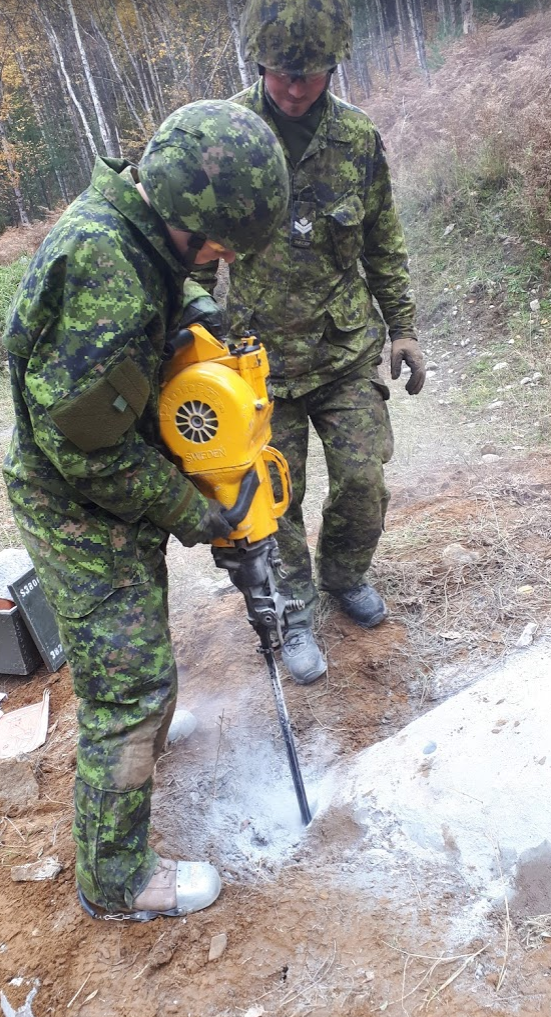 According to a release, soldiers were able to put Specialist Equipment Vehicles to work. The five-ton off-road vehicles can carry nine people, along with first aid equipment, power tools, and many other supplies and equipment.
French noted that nearby residents may have heard some explosions on October 19.
"There was a dense cloud ceiling at an elevation that reflected sound back into nearby areas, Warfield in particular," said French. "The Squadron generally conducts explosives training no more than once a year. It is only a couple times per decade that it coincides with a low, dense, cloud ceiling."
The 44 Engineer Squadron has armouries in Cranbrook and in Trail.